Custom Quote Request Form
Packaging Tape Rolls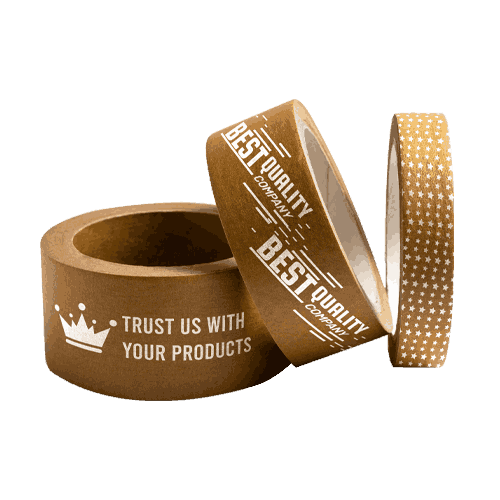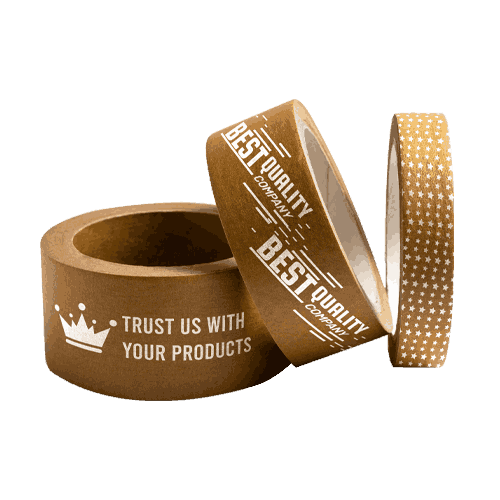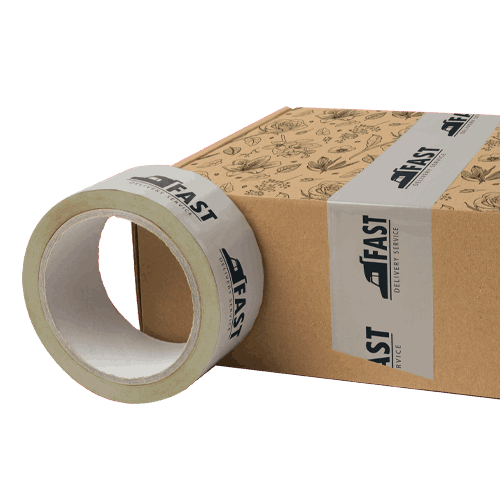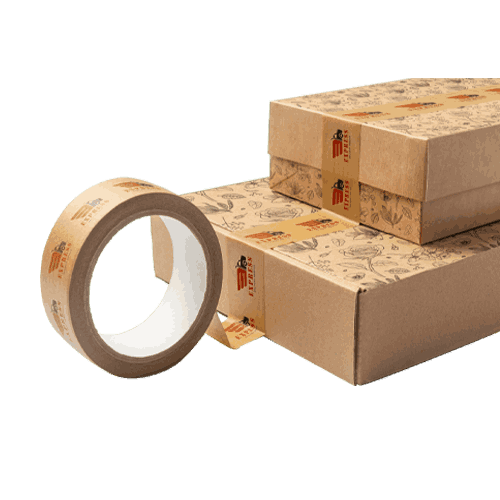 FAQ's
Specifications
Learn More
Reviews
Q:
Can I have continuous print on my tape rolls?
A:
Yes, you can have continuous print on your tapes. Please get in touch with our support team at 020 3372 4219 for a custom quote.
Q:
What file formats should I send for the printing of my packaging tapes?
A:
Supported formats currently include Ai, EPS, PSD, and pdf. However, for highest quality results, we recommend creating the design in a CMYK file format.
Q:
What is a water-activated tape?
A:
Water-activated tape is a paper-based tape that feels dry before use and is activated by water. After a little bit of water is applied to the glued edge of the tape, the dry glue turns into a strong adhesive that adheres to cardboard and corrugated material easily.
Q:
Do I need special equipment to activate water-activated tape?
A:
While using a specialized tape dispenser is recommend, it is not compulsory. The tape can also be used with the aid of a wet sponge. When using a wet sponge, it is better to cut a portion of the tape and then apply water with the sponge. On the other hand, specialized water-activated tape dispensers have wet sponge rollers that moisten the tape as it pulled through. In addition, the perforated blades on the dispenser helps in cutting the tape evenly during application.
Q:
What are the advantages of using pressure-sensitive tape rolls?
A:
Pressure-sensitive tape rolls, commonly known as polypropylene tapes, provide a quick and easy solution to pack corrugated and cardboard packaging boxes. This type of tape is ideal for sealing both light and heavyweight boxes.
Q:
What are the most common types of custom printed tape rolls?
A:
Printed tape rolls can be manufactured using various types backing paper and adhesive types in order to ease of use. The most common types are:
Water Activated Tape: Also referred to as gummed tape, this type of tap is made from a paper based backing paper and starch-based adhesive. Once moisturized with water, the starch-based adhesive is activated can be applied easily to seal cardboard and corrugated boxes.  The strong adhesive makes it suitable for packing retail and shipping boxes.
Heat Activated Tape: This type of tape is made from a thermoplastic film and the adhesive is activated only when both heat and pressure is applied during the application process. This type of tape is widely used in the textile and packaging
Double Coated Tape: This is a pressure sensitive adhesive tape that is manufactured using foam, cloth, and paper material. The high temperature performance of this tape makes it ideal for use in settings where the tape may be exposed to extreme temperatures.
Foam Tapes: Foam tapes are double coated tapes and are coated with acrylic or paper layer on both sides.  This type of tape is widely used for mounting and sound damping purposes.
Material
Paper
PVC
Kraft
Style
Rolls
Size
2" Width
3" Width
Custom
Finishing
Natural Uncoated
Gloss
Features
White and Kraft colours
Customised printing
Durable
Other Options
Hot Melt Tape
Water Activated Tape
Different tape length available
SKU#
RP-032
The Importance of Quality Packaging Tape in Shipping
A packaging tape roll is a roll of pressure-sensitive adhesive tape used to seal packages for shipping and storage. It is typically made of a thin plastic film or kraft material coated with a pressure-sensitive adhesive. It is available in many colours, lengths, and widths and is often used with other packaging materials such as bubble wrap, packing peanuts, and cushioning foam.
Quality packaging tape is crucial in the shipping industry. A package's safe arrival at its destination depends on many factors, and one of the most important is the tape used to seal it. Here are some of the reasons why quality packaging tape is important in shipping:
Protects the contents: Good quality packaging tape helps to keep the contents of a package safe and secure during transportation. It holds the package together and protects the items inside from damage.
Prevents tampering: Packages can be tampered with during transportation, but using tamper-evident quality tape can help prevent this. The tamper-evident tape will show signs of tampering if the package has been opened, alerting both the sender and recipient.
Maintains brand image: Packages are a reflection of the brand sending them. Quality packaging tape helps keep a professional appearance and creates a good impression on the recipient.
Increases efficiency: Using good quality tape can help to speed up the packaging process. Robust and reliable tape ensures that packages are properly sealed and can be shipped quickly, reducing the time it takes to get items to their destination.
In conclusion, using quality packaging tape is essential to the shipping process. It helps to ensure the safe arrival of packages, prevents tampering, maintains brand image, increases efficiency, and is cost-effective in the long run.
Applying packaging tape effectively and efficiently ensures that packages are properly sealed and secure for transportation. Here are some tips for using packaging tape:
Choose the suitable tape: Select the appropriate type for the specific package and its contents. For heavy boxes, consider using reinforced tape, while for fragile items, consider using tamper-evident tape.
Use a dispenser: A tape dispenser can make the packaging process much easier and more efficient. A dispenser will help control the amount of tape used and make it easier to apply the tape.
Start and end at the corners: When applying the tape, start and end at the box's corners. It helps to reinforce the corners and provides additional stability to the package.
Apply the tape evenly: Ensure that the tape is applied smoothly and without any creases or air pockets. It will help ensure a tight, secure seal and prevent the tape from undoing during transportation.
Use a blade to cut the tape: Using a blade to cut the tape, instead of tearing it by hand, will give a clean and precise cut, resulting in a neater and stronger seal.
Overlap the tape: When sealing a package, overlap the tape slightly on the previous piece. It will provide added strength to the seal and help to prevent it from coming undone.
Applying packaging tape effectively and efficiently will also help to save time and effort, making the packaging process smoother and more efficient.
The materials used for packaging tape can vary depending on the specific requirements of the packaging. Common materials used in packaging tape include:
Polypropylene (PP): It is the most common material used for packaging tape. It is lightweight, strong, and has a high level of adhesion, making it ideal for general-purpose packaging.
PVC (Polyvinyl Chloride): This material is used for packaging tape because of its durability and water resistance. It is often used in packaging that requires moisture-resistant tape.
Rubber: Rubber-based tapes have strong adhesion and are used for packaging that requires a high level of flexibility. They are often used in packaging that requires heavy-duty tape that can stretch and move with the contents of the package.
Hot Melt: Hot melt tapes are made from a thermoplastic material that is activated by heat. They provide a strong and secure seal, making them ideal for packaging that requires fast-setting tape.
Kraft paper: Kraft paper tapes are made from recycled paper and are a popular choice for eco-friendly packaging. They provide a strong, durable, and biodegradable alternative to traditional packaging tapes.
The choice of material will depend on the specific requirements of the packaging, such as weight, contents, and environmental conditions.
Other Retail Packaging Products