Custom Quote Request Form
Pillow Boxes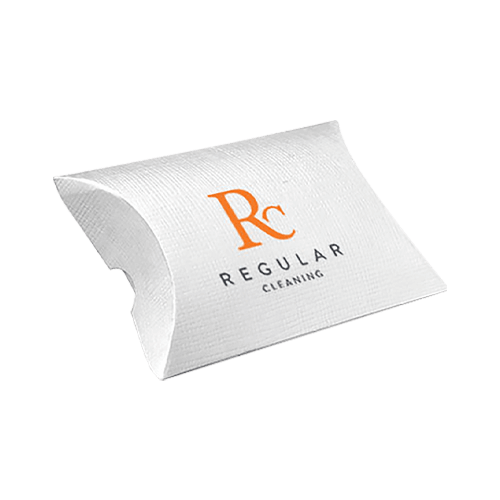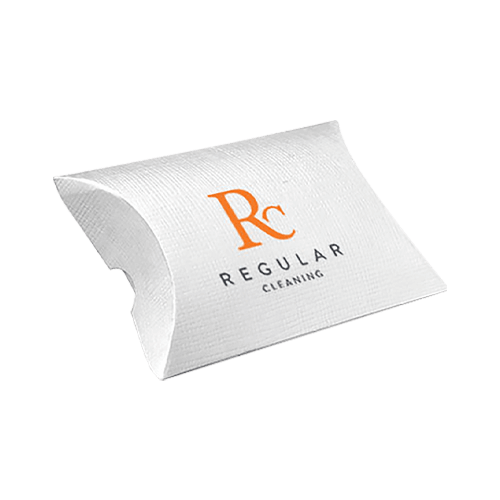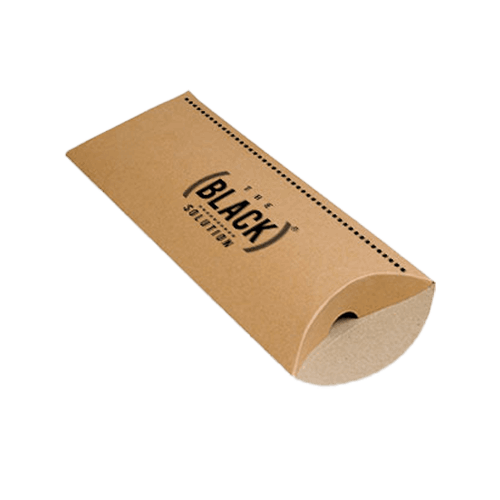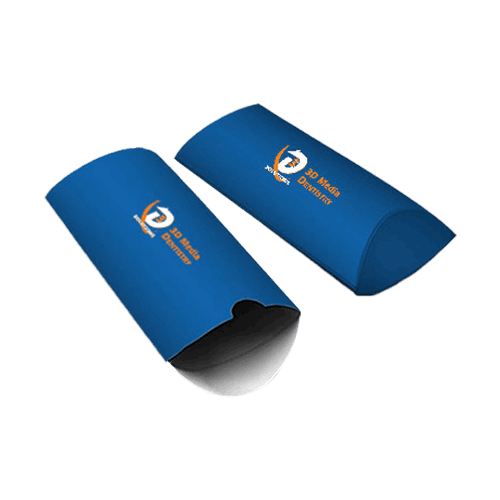 FAQ's
Specification
Learn More
Reviews
Q:
What does the term 'pillow box packaging' mean?
A:
A pillow box is a type of specialty packaging that is ideal for smaller, light-weight items such as gift cards, candy, jewelry, and more. These boxes pop into a shape that resembles a miniature cardboard pillow, with interlocking tabs for protection of the contents.
Q:
Which parts of the pillow box can I customize?
A:
All sides of the box are fully customisable — front, back, top, bottom, outside, and inside. The inside can be printed for an additional charge. You can customize both the outside and inside (even the flaps that tuck away or reside inside the folded box). Please work with your account representative to discuss any specific requirements.
Q:
The proof for my custom pillow boxes looks blurry. Will it print that way?
A:
No. The emailed proofs only show how the graphics align on the box. The final print is much sharper, as long as vector or high-resolution graphics have been used in your design file. You will be contacted if your graphics appear to be at too low a resolution. If you have any concerns, please feel free to ask us a question.
Q:
Can you send me samples of your custom pillow box packaging?
A:
We can send samples of our recent print orders. Please submit a sample request and our sales representative will be in touch so that appropriate product box samples can be sent.
Q:
What types of enhancements can I add to my pillow boxes to make them unique?
A:
These are some of the unique features that can be incorporated in the design in order to make sure pillow packaging unique:
Spot UV Varnish: To call attention to your logo or brand name, an ultra-high gloss finish, Spot UV varnish, can be applied to these areas. This finish is typically applied over a matte or soft-touch laminate to create the desired contrast.
Foil stamping: In order to create a more luxurious look, a shiny foil sheet can be stamped with heat and pressure onto the surface of a card. Foil sheets come in a wide variety of colours and our design team can help you select the desired colour that best fits your design.
Embossing & Debossing: A engraved metal die is used to create a relief imprint on the printed surface. Depending on the direction from which the die is applied, it creates an embossed or debossed imprint on the surface.
Q:
Can you make custom pillow boxes in any size?
A:
Yes. We can design and print pillow box packaging to match your specific requirements.
Material
White: SBS (C1S), SBS (C2S), Uncoated Stock, Textured Stock
Brown: Natural Brown Kraft Card Stock
White Front Coloured Back: CCNB (Grey Back), CCKB (Kraft Back)
Material Thickness
Cardstock Thickness: 300 gsm, 350 gsm, 450 gsm, 600 gsm, Custom
Finishing Types
Lamination: N/A
Coating: Spot UV
Features
Foil Stamping
Embossing
Debossing
Die Cutting
Metallic Inks
Custom Size
Other Options
Window Cutouts
Scoring and Gluing
Custom Perforation
SKU#
RP-021
Custom Pillow Box Packaging
Do you sell small items that require individual boxes and you do not want to use a traditional cube box?  If so, custom pillow boxes may be the right fit for your products.  Pillow boxes are ideal for smaller, light-weight items such as cosmetic products, gift cards, candy, jewelry, and more. These boxes not only provide a unique way of packaging your products, they are typically more cost effective due to the small of amount of material required to produce these boxes.
In addition to the cost savings, pillow boxes also help your products standout in the market.  Due to their unique shape, these boxes also can be used as gift boxes and do not require additional gift wrapping.  Many of the high-end cosmetic and electronic products in the market are using this style of packaging to achieve a distinctive look.
How do these boxes work?
Custom pillow boxes ship flat and pop into a shape that resembles a miniature cardboard pillow.  There are interlocking tabs on the sides for the protection of the contents.  These boxes can be made in custom sizes and from different materials in order to have the required durability. 
Features offered by Printingblue.co.uk
Printingblue has over two decades of experience in producing different types of retail packaging. Our graphic designers can help you analyze and find the best packaging fit for your products. Pillow boxes can be customised by using:
Embossed logos and lettering
Foiled text and logos
Unique die-cut see through windows
Unique card textures and thickness
Services offered by Printingblue
We offer a number of traditionally expensive services for free including:
Free graphic design services
Free delivery
Free file check and digital proofs
Free estimates
If you are ready to see examples of custom pillow packaging solutions that we can offer, then please submit a free sample kit today.
Other Retail Packaging Products