Custom Quote Request Form
Door Hangers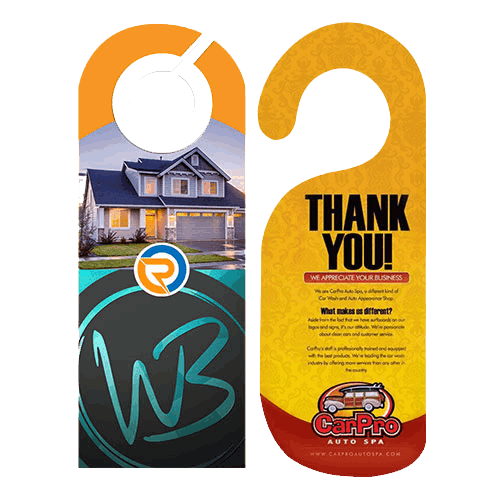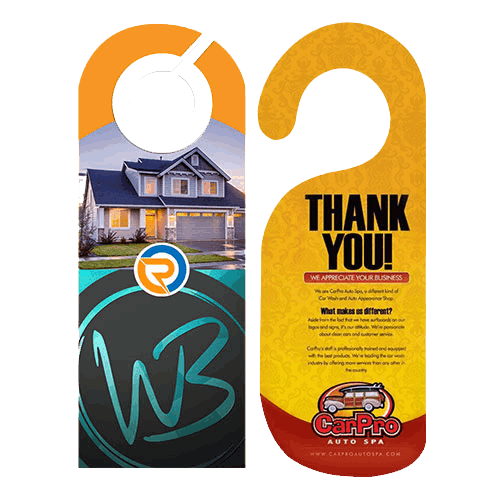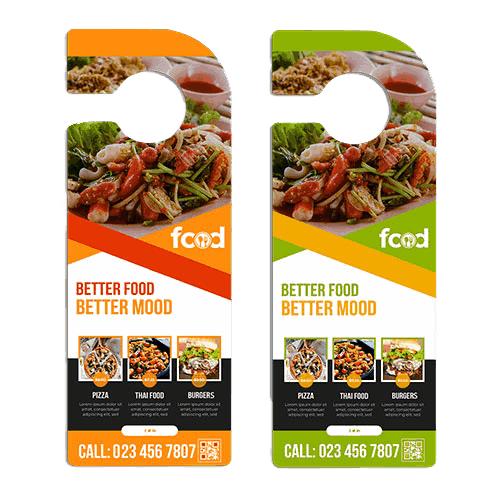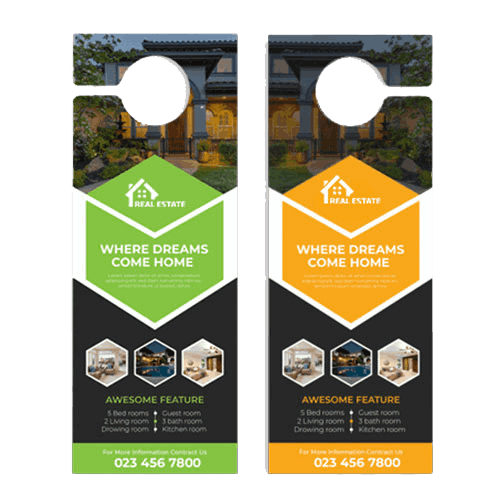 FAQ's
Specification
Learn More
Reviews
Q:
What are door hangers and what are they used for?
A:
Door hangers are printed pieces of cardstock that are typically hung on door handles or knobs. Door hangers can be a very effective medium to share marketing or other information. These hangers can be used to deliver business information, marketing and promotional offers, or other types of information right to your customer's door front.
Q:
Will the holes on door hangers fit all door knobs?
A:
The holes on the custom printed door hanger will fit most common door knobs. In order to provide more flexibility, small slits are also added the door hanger holes in order to fit larger door knobs or handles and even latch style doors. If you have any custom requirements, please let us know and we can make the necessary changes to the design.
Q:
What is a tear-off option and what is it used for?
A:
A door hanger can have a tear-off part at the bottom. This part can be detached from the rest of the door hanger along a perforated line. This part can be used to provide information that a customer may want to retain in a smaller size. This part typically contains business contact information, promotional offers, and coupons.
Q:
Can I change the size of the tear-off portion?
A:
Yes, you can change the size as well as position of the tear-off part to best suit your requirements. You can also ask our customer support team to make these or any other custom changes to the design for your personalised door hangers.
Q:
Can my door hangers be printed on both sides?
A:
Yes, you can have printing one or both sides to fit your requirements.
Q:
Is a proof file sent before the final printing process?
A:
You will be emailed a proof PDF file prior to the printing process. Please review the proof very carefully for accuracy. It is important that you proof read the text also check the positioning of the artwork. Artwork is printed based on the CMYK or Pantone values embedded in the design file and may vary significantly from the colour shown in the proof when viewed on any particular screen. Hard copy proofs are also available at an additional cost in order to preview the exact print output before committing to a large run.
Q:
What can I do if there are issues with my order?
A:
All orders go through an extensive quality check before entering the shipping process. In the event that you find any issues with the delivered items, please contact our staff via email or phone and we will be happy to resolve any issues in a timely manner. Your satisfaction is an absolute priority for us.
Material
White: SBS (C2S)
Stock Thickness: 300 gsm, 350 gsm, Custom
Size
4 x 9 inches (102 x 229 mm)
5 x 8 inches (127 x 203 mm)
Custom
Finishing Types
Lamination: Gloss, Matte, Sandy Matte, Soft Touch, Pattern
Coating: Gloss AQ, Satin, Varnish, Spot UV, Flood UV
Features
Foil Stamping
Embossing
Debossing
Custom Die-cut Shapes
Metallic Inks
Other Options
Custom Perforation
Both Side Printing
SKU#
DH-001
Custom Printed Door Hangers
If you are seeking cost efficient yet responsive investment on account of business marketing, then choose door hangers as your next tool. They are also known as doorknob hangers and are among the cheapest yet highly influential marketing tools.
The custom door hangers usually carry a company's or a product's name. Getting your company and/or product name printed in large size lets you promote your brand among masses. So if you are seeking promotional products that will keep the attention of your prospects captivated for long then order this smart, handy and low cost advertising tool today with Printingblue.
At Printingblue we offer premium door hanger design templates to enable our valued customers get the most out of their custom printing needs. Our designs include subtle contrasts of dark and light colours for background and fonts. This ensures easy readability and spreads your message among public. While getting them custom designed, make sure you choose simple and easy-to-read fonts. Too much stylish fonts will make your campaign go in vain.
Die-Cut Door Hangers
Designs play a major role in the efficiency of your door hangers. The composition of graphics and text in a professional and creative manner lets you convey the desired message and grab the attention of potential clients. Whether you are heading for a political or business marketing campaign, you should consider a custom door hanger as highly efficient promotional product.
Apart from their application as door knob advertisers at hotels and many other prominent places, they can also prove as awesome advertisers on your car's rear view mirrors. So whatever the purpose may be behind your door hangers, make sure that you choose Printingblue as your premier printing partner. We offer bespoke printing services with sizes, die-cut shapes and designs that completely fit your printing needs.
Placing these nasty tools strategically on the doors of potential customers lets you trap them and get your company's message through in a professional and polite manner. In fact, it's a professional advertiser's dream to make sure that his message is read by each of the addressees. Unlike conventional advertising products such as brochures, flyers, stickers, banners etc., door hangers are too hard to stay unnoticed.
Other Printing Products