Custom Quote Request Form
Table Tents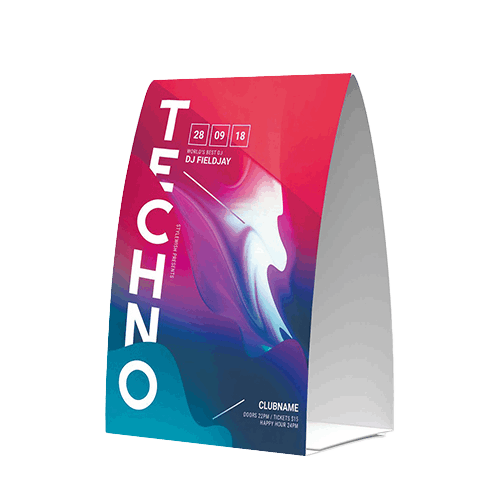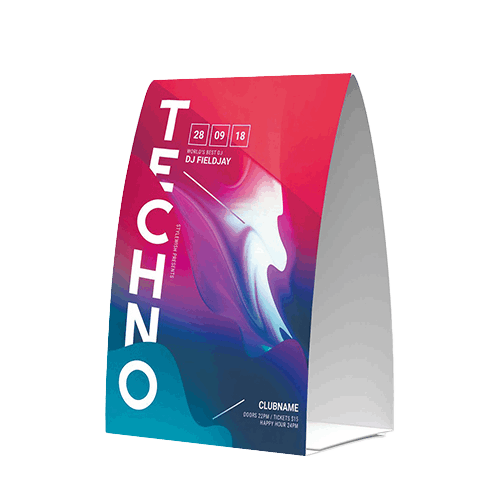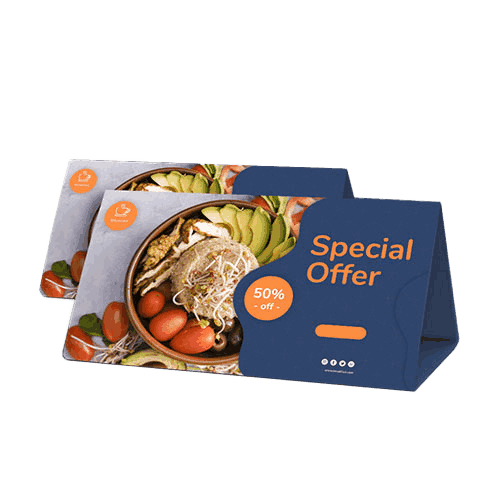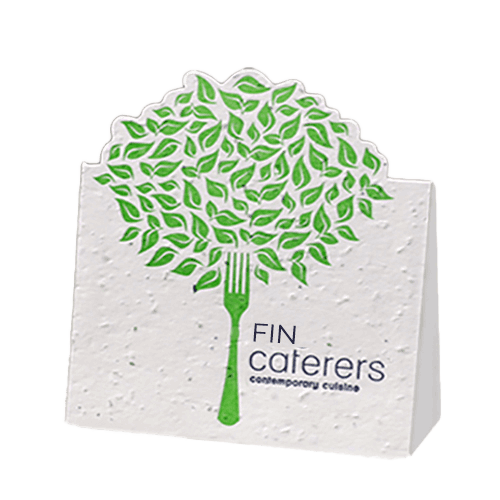 FAQ's
Specification
Learn More
Reviews
Q:
What are table tents and what are they used for?
A:
Table tents are printed cards folded and shaped into self-standing tents. These tents serve as an efficient marketing tool and can be placed on tables in any public gathering setting such as restaurants, trade shows, conferences, and point of sale counters in order to promote products, services, and promotional offers.
Q:
What are table talkers and tent Cards?
A:
Table tents are also commonly referred to as table talkers and tent cards in the print industry. If you have questions, please let us know and we will be happy to provide more information.
Q:
What are the different types of table tents?
A:
The most common types of table tents are referred to as A-Frame tents, triangle shaped tents, and pyramid shaped tents. In addition to these types, we can also produce customised tents to fit your design and requirements.
Q:
What are the standard sizes for table tents and do you offer custom sizes?
A:
Standard sizes for table tents include 2.8 x 11 inches (71 x 279 mm) (71 x 279 mm) and 4.25 x 5.5 inches (108 x 140 mm) (108 x 140 mm). In addition to these sizes, there are other sizes that also commonly used in the industry. We can produce table tents and table talkers in any size of your choice.
Q:
How are table tents shipped and assembled?
A:
Most table tents are shipped flat and non-assembled. The table tents either have a self-adhesive tape that can be peeled-off to assemble the tents or have slit-cuts that can be inserted together for assembly. Some simple table tents, such as A-Frame tents, can be shipped assembled.
Q:
How can I review a proof of the custom table tents before printing?
A:
We will send a digital proof for your approval before the final printing process. Please note that the proofs need to be reviewed very carefully in order to fix any spelling or artwork errors. Once approved, the proofs will be printed as is.
The printed colours are based on the CMYK or Pantone values specified in the design file and may vary substantially from the proof colours when viewed any particular computer screen. Hard copy proofs are also available at an additional cost in order to preview the exact colour and artwork placement before committing to larger order.
Q:
What can I do if the quality of the table tents is not to my satisfaction?
A:
TWhile we do an extensive quality check before shipping an order, given the nature of the printing business, it is possibility that a few defective pieces may make their way to you. If you find any defective pieces, please let us know and we will be happy to discuss all possible options to resolve the issues to your satisfaction.
Material
White: SBS (C1S)
Stock Thickness: 300 gsm, 350 gsm, Custom
Size
2.8 x 11 inches (71 x 279 mm)
4.25 x 5.5 inches (108 x 140 mm)
Custom
Finishing Types
Lamination: Gloss, Matte, Sandy Matte, Soft Touch, Pattern
Coating: Gloss AQ, Satin, Varnish, Spot UV, Flood UV
Features
Foil Stamping
Embossing
Debossing
Custom Die-cut Shapes
Metallic Inks
Other Options
Custom Perforation
Peel & Assemble
SKU#
TT-001
Custom Table Tents
Since we are living in a world of digital communication, we often start ignoring conventional methods of business promotion which include table tent printing. Since its inception, online marketing has come a long way and today it is one of the most popular ways of making your presence felt in the world. However, the fact remains that despite its success, online marketing is completely virtual. It may inform and educate a consumer about a product, but real shopping will still be done by kinetic shoppers.
Given that virtual advertising is not comprehensive solution to business promotion, it is crucial for companies to invest just as much of money and interest in traditional tools of advertisement as they do on digital marketing. In this regard, a printable table tents are great way of putting in-depth information about your products and services right into your audience's hand. Whether you own a small or a large business, table tent can turn out as a highly proficient and pocket friendly solution to promote your business among masses.
Restaurants, bars, public houses, steakhouses, commercial exhibitions, book fairs – no matter where you go, you will witness countless table tents of different design and shapes. These three dimensional card stands have the tendency to grab immediate attention of potential customers. The reason behind the prolificacy of table tents at restaurants is that they do a lot more than what a traditional menu card could ever do.
Our customer support representatives are available 24/7 to solve all your printing related queries. They can guide you from scratch till the end. Expert graphic designers are also at your service round the clock to provide you with free custom design support on the spot. So why wait? Order table tents today and give your sales a boost!
Other Printing Products