Custom Quote Request Form
Business Cards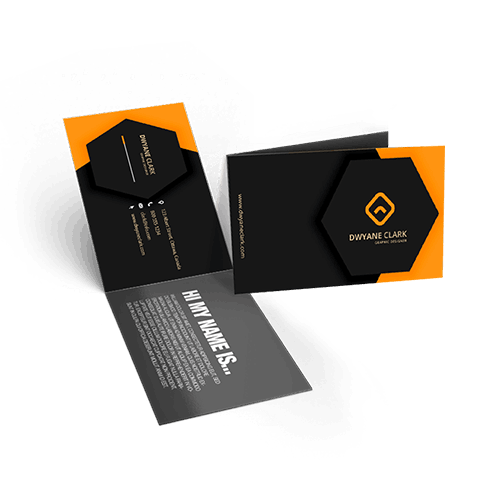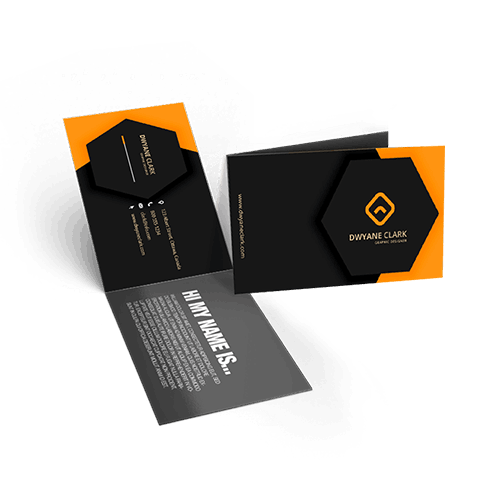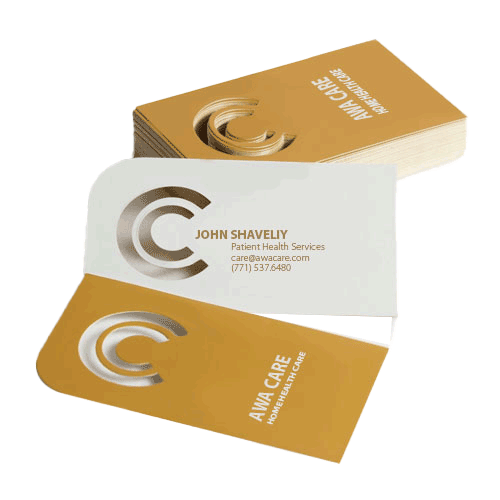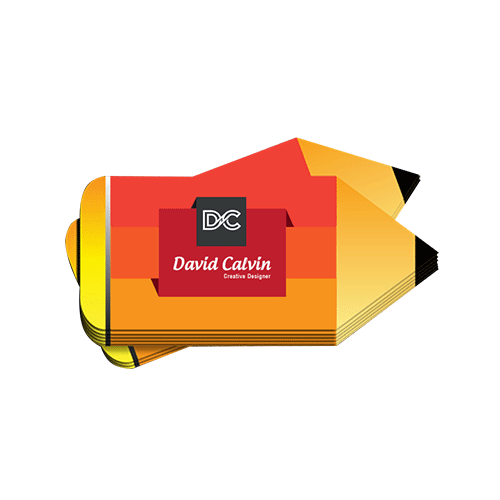 FAQ's
Learn More
Specification
Reviews
Q:
What is 4/0 vs. 4/4 when designing custom business cards?
A:
4/0 refers to printing full colour on one side of the custom designed business cards. On the other hand, 4/4 refers to printing full colour on both sides of the business card.
Q:
The proof for my custom business cards looks blurry. Will it print that way?
A:
No. The emailed proofs only show how the graphics align on the custom business cards.  The final print is much sharper, as long as vector or high-resolution graphics have been used in the design file for your business cards.  You will be contacted if your graphics appear to be at too low a resolution.  If you have any concerns, please feel free to ask us a question.
Q:
What custom options can I use to personalize my business cards?
A:
These are the most commonly used options when designing premium business cards:
Spot UV Varnish: Spot UV varnish is an ultra-high gloss finish that can be applied over a matte or soft-touch laminate in order to make particular areas more prominent. Typical applications include highlighting logos or brand names.
Foil stamping: Foil stamping involves applying a metallic foil on card stock by applying heat and pressure. Your sale representative can provide more guidance regarding the availability of specific colours for your particular project.
Embossing & Debossing: Embossing and Debossing is the process of creating a raised or recessed image on the printed surface. An embossed image presents itself as being raised from the surface whereas a debossed image presents itself as being recessed into the surface. These effects are achieved by applying an engraved metal die with an appropriate level of pressure to the printed surface.
Q:
What is the standard size & shape for a custom business card?
A:
The normal size of a business card is typically 85 x 55 mm.  However there is not really a standard when it comes to custom business cards – the size that you use really depends upon what your personal preferences are and if you want the cards to be compatible with any existing accessories that you may already have.
If you want something to be unique, then our designers at Printingblue.co.uk can work with you to create a business card design that is very unique to you.
While regular business cards are rectangular, you can also consider other options including die-cut (e.g. round corners, or a unique shape), tent fold business cards (business cards that open with more information inside), and magnetic business cards.
Q:
What weight is the stock used for regular business cards?
A:
The default weight for the most common stock used for a business card is 300 gsm white card stock.  However, much like the normal size for a business card, this is not a rule.  You are free to select from a wide variety of available stocks for your custom designed business card depending upon your own individual preferences and budget. Typically, using a more heavier card stock will result in a more premium feel and result in a more durable business card.
Q:
Can you send me samples of your custom business cards?
A:
We can send samples of our recent print orders.  Please submit a sample request and our sales representative will be in touch so that appropriate samples can be sent.
Q:
Is there a minimum order quantity for custom business cards?
A:
No, there is no minimum order for business cards.  You can order as few custom business cards as you need.  Ordering a few business cards is perfect if you would like a sample to check out before committing to a larger order.  However, due to initial costs involved in setting up a print job, ordering bigger quantities will typically result in a lower per unit cost.  Your account representative can help you find the most efficient solution in order to keep your cost low.
Q:
Can I print custom business cards with different information on them at the same time?
A:
Yes. You can order as custom business cards .  Ordering business cards for a number of employees or co-workers at the same time can be more cost effective.  Your account representative can help you find the most efficient solution in order to keep your cost low and help you design personal business cards for all of your co-worker or employees.
Q:
What type of business cards can you manufacture?
A:
We can produce many different types of business cards with a wide variety of customisable options including but not limited to:
Standard Business Cards
Folded Business Cards
Embossed Business Cards
Business Cards With Foiling
Business Cards With Spot UV
Die-cut Business Cards
Cheap, Custom Design Business Cards
Business cards have been around for a long time as they are an efficient tool for marketing, networking, and increasing brand awareness. But not just any business card will do. A business card needs to look professional, or it might do more harm than good.
At Printingblue.co.uk, our custom design business cards will give you the edge you need to make a lasting impression with prospective clients.
Create the Perfect Card
Do you have an excellent design in mind? From start to finish, you can choose every facet of your business card to display your brand accurately to anyone who sees it. With full-colour printing, high-quality card stock, and plenty of other design options, the sky's the limit.
We can help if you are unsure where to begin or would rather not design your own business card. At no additional cost to you, our design experts can craft the perfect business card for you. You can then review it and make any changes you like.
Order a Sample Kit
Our cheap custom business cards are low in cost, not in quality. At Printingblue.co.uk, we offer only the best materials and techniques to ensure that your business cards will be a cost-effective way of getting your name out there. Affordable costs and premium quality mean you're getting the best of both worlds.
If you'd like to learn more, order a free sample kit that will allow you to get a sneak-peek at what we'll be able to make for you.
Foil Business Cards
Foil business cards or foil stamped business cards are a great way of adding class to your business and making it to stand apart from the rest. You can add a foil accent to any part of your business card that you choose. Normally the foil accent is added to a graphic or logo on the card to make it appear reflective and metallic. The metallic foil is transferred to your business cards through heat on to the surface to make a specific area shiny. Silver foil business cards and gold foil business cards are most popular in industry to provide great look to your business.
Die Embossed Business Card
Are you keen to make your business progress but are not satisfied with the current techniques and methods used in your marketing campaigns? The key to make it prosper is to follow the latest market trends and methodologies. Many innovative techniques are used in the modern era, which include embossed business cards at the top of list. Embossed cards are the phenomenal tools that motivate people of all interests and age groups.
If you are willing to get them then you need looking no further. Printingblue is the ultimate online emporium where you can get a complete range of business cards printed as per your customised requirements. You can get them printed in custom defined shapes and sizes. We also offer raised lettering for a three dimensional look. So why wait? Place your embossed card printing order now!
Material
White: SBS (C2S), Uncoated
Textured & Linen Stock
Stock Thickness: 300 gsm, 350 gsm, Custom
Style
Square Corners
Rounded Corners
Vertical
Horizontal
Folded
Die-Cut
Size
85 x 55 mm
85 x 110 mm
Custom
Finishing Types
Lamination: Gloss, Matte, Sandy Matte, Soft Touch, Pattern
Coating: Gloss AQ, Satin, Varnish, Spot UV, Flood UV
Features
Foil Stamping
Embossing
Debossing
Custom Die-cut Shapes
Metallic Inks
Other Options
Variable Data
SKU#
BC-001
Other Printing Products