Custom Quote Request Form
Booklets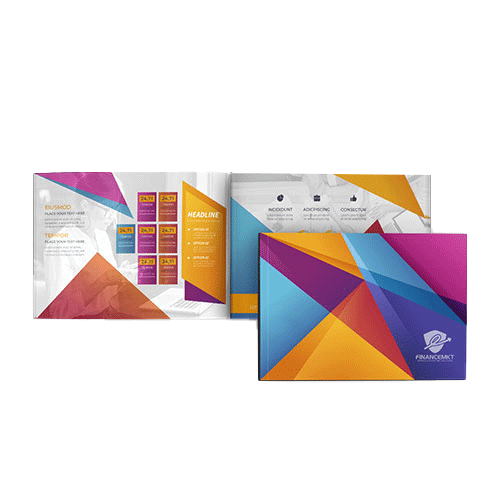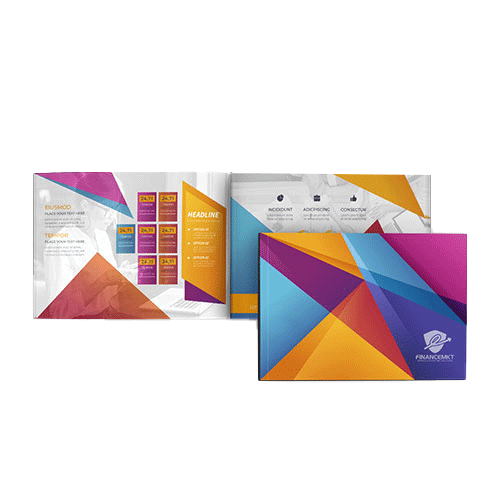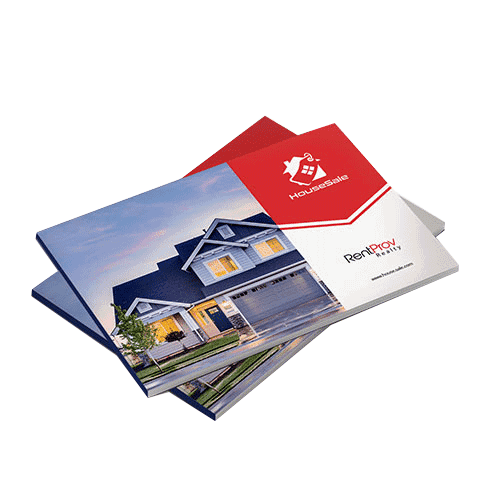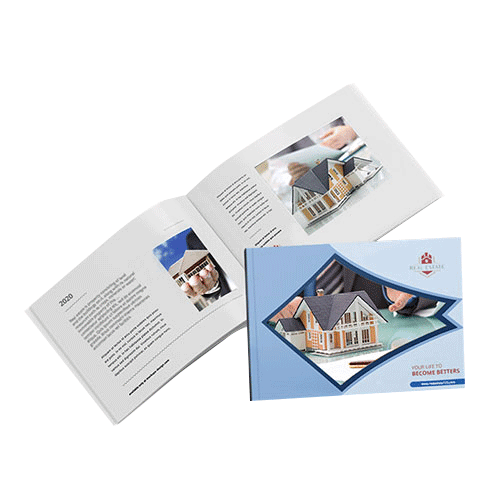 FAQ's
Specification
Learn More
Reviews
Q:
What file format should I use for best results?
A:
Any non-photographic content (including graphics and text) should be uploaded as vector-based files in order to ensure that lines are crisp and clear. Some content such as logos typically needs to be separated from the background, resized, or otherwise manipulated. Vector images offer the most flexibility for these purposes. Supported formats currently include Ai, CDR, PSD and pdf. If you have any questions with regards to file preparation, please feel free to contact your account representative.
Q:
At what resolution should I save my photos and graphics?
A:
Resolution should be set to at least 300 dpi (dot per inch). Please note that pictures and graphics pulled from the internet are often low resolution, typically 72 dpi or 96 dpi. Avoid these graphics, as they will appear pixelated and blocky when printed.
In addition, all photos and images should be saved in CMYK mode (as opposed to RGB mode) when possible. Images saved in RGB mode will likely not print properly. If you are unable to save your image in CMYK mode, please let us know.
Q:
Why is binding using staples is called 'saddle-stitching'?
A:
Saddle stitching is a binding process where the pages of a custom booklet are folded and then stapled. The apparatus used in this process has close resemblance to a Saddle. For this reason, the process is called saddle stitching.
Q:
What can I do if the quality of the products is not to my satisfaction?
A:
While we do an extensive quality check before shipping an order, given the nature of the printing business, it is possibility that a few defective pieces may make their way to you. If you find any defective pieces, please let us know and we will be happy to discuss all possible options to resolve the issues to your satisfaction.
Q:
What is the difference between saddle-stitch vs perfect bound catalogues and booklets?
A:
Saddle-stitch binding utilizes a pair of staples to bind the booklets whereas perfect bound booklets are bound using glue.
Q:
Is my artwork checked for errors and technical issues such as image resolution?
A:
Yes, we perform a free artwork check before an order is sent for printing. If we find any issues, we will either fix them or contact you if further action is needed. Please do note that this is only a technical check. Any spelling, grammatical, or positioning issues are not checked during this process.
Q:
Why are the pages counted only in multiples of 4?
A:
This arrangement is only for booklets bound with saddle stitching. Larger sheets are printed and then are folded in half and then stapled in the middle. Since each larger sheet makes 4 pages (left, right, front, and back), the total page count of the booklets has to be in multiples of 4.
Q:
Why can I not add my artwork straight to my perfect bound booklet?
A:
The artwork for perfect bound books is complicated and requires manual setup. You can email us the artwork and our art team will prepare a proof for your review.
Q:
What does the term 'bleed' refer to?
A:
When a design needs to be printed to the edge of a page, the artwork needs to be extended by a minimum margin of 1/8 inch along all sides beyond the required size. The excess area is then trimmed down to the final required size. The end result is an image that extends to the edge of the printed page. This extended printing margin is referred to as the 'bleed'.
Material
White: Gloss Text, Matte Text, Uncoated, Cover Stock
Paper Stock Thickness: 115 gsm, 135 gsm
Cover Stock Thickness: 280 gsm, 300 gsm
Style
Horizontal
Vertical
Saddle Stitching
Spiral Binding
Size
A6
A5
DL
A4
Custom
Finishing Types
Lamination: Gloss, Matte, Sandy Matte, Soft Touch, Pattern
Coating: Gloss AQ, Satin, Varnish, Spot UV, Flood UV
Features
Foil Stamping
Embossing
Debossing
Custom Die-cut Shapes
Metallic Inks
Other Options
Custom Perforation
Hole Drilling
SKU#
OP-001
Business Branding: Creating Impactful Marketing with Custom Printed Booklets
Booklets are small printed publications typically consisting of multiple sheets of paper, often folded and bound together, containing information or visual content on a specific topic. They serve as a versatile and effective medium for communication and marketing across various industries and applications. Booklets can range from a few pages to dozens of pages, and their size and format can be customised to suit specific needs. Key features of booklets typically include:
Layout and Format: Booklets are designed with a clear and organized layout to present information in an easy-to-digest format. They often feature headings, subheadings, bullet points, images, and illustrations to enhance visual appeal and facilitate understanding.
Size and Shape: Booklets come in various sizes and shapes, ranging from pocket-sized to larger formats. Standard sizes include A4, A5, and A6, but custom sizes can also be created based on the purpose and requirements of the project.
Paper and Material: Booklets can be printed on a variety of paper types, including gloss, matte, uncoated, and recycled paper, with varying weights and finishes to suit the specific needs and desired look of the project.
Content: It can be created for various purposes, such as product catalogs, event programs, training manuals, educational materials, company reports, and creative portfolios. The content can be tailored to target specific audiences or demographics, allowing for a more personalised approach.
Booklets can play a crucial role in product packaging by providing essential information, enhancing the user experience, and reinforcing brand identity. When customers purchase a product, they typically expect to find booklets included in the packaging that provide detailed instructions on how to use, assemble or maintain the product. These booklets should include clear, step-by-step guides with images or illustrations to enhance user experience and satisfaction. In some cases, products may come with specific safety guidelines or precautions that must be followed. In such cases, booklets can clearly and effectively convey this information. This is especially important for products like electronics, chemicals, or pharmaceuticals, where proper usage is critical for consumer safety. Booklets can also provide valuable information on warranty terms, product registration, customer support contacts, and troubleshooting tips. This can help build trust with customers and ensure a smooth after-sales experience. Lastly, booklets can be used to promote other products or services your company offers. Including promotional booklets in the packaging can help drive customer interest in additional offerings and increase cross-selling opportunities.
There are several booklet binding methods, each with unique characteristics and suitability for specific projects. Common binding types used for booklets are:
Saddle-stitching: Saddle-stitched booklets are made by folding sheets of paper in half and then stapling along the spine. It is an economical option for smaller booklets, catalogs, or manuals.
Perfect binding: Booklets with perfect binding have their pages securely adhered to the spine using a robust and flexible adhesive. The cover is then wrapped around the glued pages, creating a square spine. This method is ideal for books, thicker catalogs, or magazines with a higher page count.
Spiral binding: Booklets featuring spiral binding are assembled by connecting pages with a plastic or metal coil woven through a row of punched holes along one side. This binding method enables the booklet to remain open and flat for easy reading, making it suitable for manuals, notebooks, or presentation materials.
Wire-O binding: Similar to spiral binding, Wire-O binding uses a double-loop wire that threads through punched holes along one side of the booklets. Due to its sleek appearance and durability, this binding type is often used for professional reports, calendars, and high-end presentations.
Comb binding: Comb binding uses a plastic spine with rounded teeth inserted into rectangular holes punched along the edges of the pages. This cost-effective method allows easy updates to the content, making it a popular choice for proposals, reports, and training materials.
Section-sewn binding: This technique separates pages into smaller segments, known as "signatures," which are stitched together using thread and subsequently adhered to the cover. This binding type is commonly used for hardcover books, offering both sturdiness and the convenience of a book that can lie flat when open.
Case binding: Case binding involves attaching a rigid cover to the pages glued together at the spine. This method is ideal for high-quality books, such as novels, textbooks, or limited-edition publications. It is also known as hard cover binding.
Other Printing Products