Custom Quote Request Form
Carbonless Forms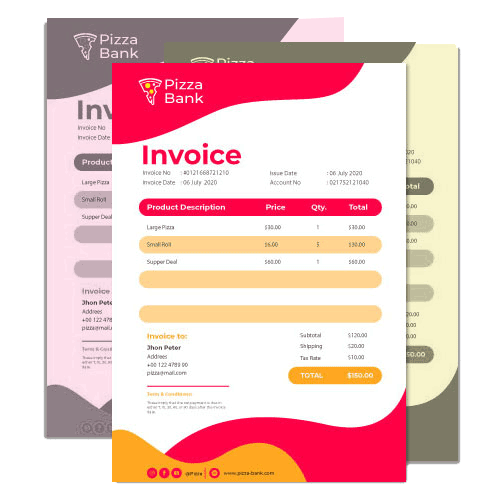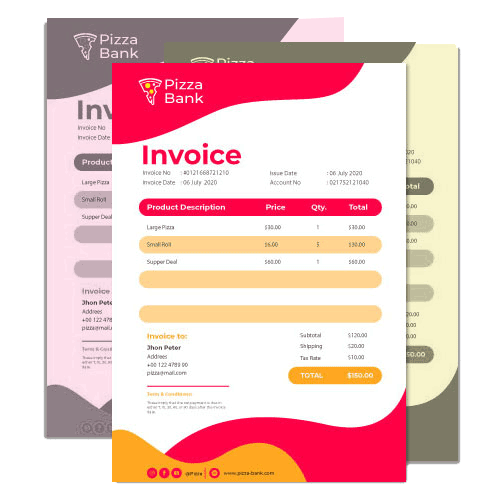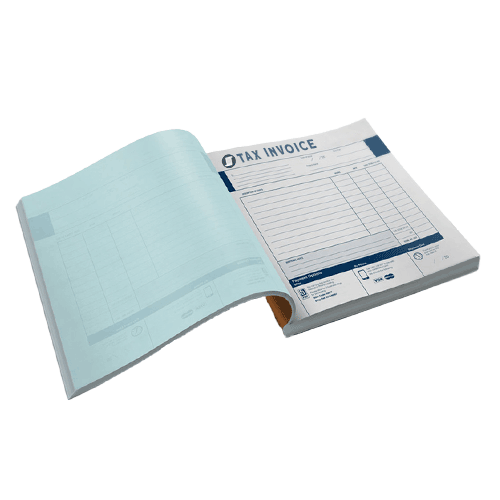 FAQ's
Specification
Learn More
Reviews
Q:
What does 'NCR' stand for?
A:
Q:
How does NCR carbonless paper work?
A:
Carbonless papers are treated with a special type of ink that is activated when written on. The ink component on the back of the first sheet is different from the ink component on the front of the second sheet. When you write on the first sheet the pressure causes the two components to react with each other to create a copy of the text.
Q:
What does the phrase 'Part' mean in 2-Part, 3-Part, 4-Part or 5-Part?
A:
A 2-part NCR form means that there is one original and one copy. A 3-part NCR form means that there are two copies along with the original. Similarly, a 4-part form will have one original and three copies and a 5-part comes with 1 original and four copies.
Q:
What colours are your custom carbonless forms?
A:
2-Part: White / Yellow
3-Part: White / Yellow / Pink
4-Part: White / Yellow / Pink / Goldenrod
5-Part: White / Green / Yellow / Pink / Goldenrod
Q:
Does my 3-part custom carbonless form have to have a white yellow pink paper sequence?
A:
No, other paper sequences are available for all types of carbonless forms. Please specify the required sequence in your quote request.
Q:
Can I have different text printed on each copy of my custom NCR carbonless forms?
A:
Yes. Please include the updated text in your design file and communicate the design differences to your account representative.
Q:
Do you print in full colour or black ink?
A:
Our NCR forms can be custom printed in full colour or black ink.
Q:
Is it possible to sequentially number carbonless forms?
A:
Yes, all carbonless products can be sequentially numbered. If you require this feature, please let our sales team know.
Q:
Are templates available for carbonless forms?
A:
Yes, we can provide customised templates for receipt forms. You can also send us a rough draft or a sketch and our art team will prepare a print ready proof or template for your review and approval.
Q:
Can carbonless forms have printing on the reverse side?
A:
Yes, carbonless forms can be printed on the reverse side also in order to include any additional information that you may wish to include. Common examples of text on the backside includes terms and conditions or location maps.
Q:
What are my binding options?
A:
You can either have your carbonless forms delivered to you as loose sets or in pads (25/50 sets per pad). If you choose to have your NCR forms delivered to you loose, each 'part' of one set will be glued together, but each set will be separate from the other. In the pad form, 25 or 50 sets will be bound together in the form of a book. We also make NCR forms with wrap-around books. Your sales representative can help you work through the various available options.
Q:
A:
All individual sets of carbonless forms are edge glued to keep them together. All of the sheets of a set are bound together by applying glue to the top or side edges. This makes separating the different sheets convenient.
Q:
What is a wrap-around cover?
A:
Service forms can be printed as individual sets or in the form of a book or pad. When in the form of a book or a pad, the back panel of the book can be extended so that it goes all the way to the front. This extended panel can be tucked between the top form set and the remaining sets so that the written text transfers on to all of the carbon copies of the first set but does not go through to the remaining forms.
Q:
Can the covers on NCR carbonless books be customised with graphics?
A:
Yes. We can do full colour printing on the covers.
Q:
How can I stick a NCR carbonless form on a box or skid?
A:
One or two strips of doubled sided tape can be applied on the back of a carbonless form during the manufacturing process. This tape can then be used to stick the forms on to a desired surface. Your sales representative can provide more details.
Q:
A:
Service forms, also referred to as customer service forms and service request forms are carbonless forms that have an original copy and one or more carbon copies. Service forms are used to keep track of performed services and billing.
Q:
What are carbonless tags?
A:
Carbonless tags, are regular two- or three-part carbonless forms with a piece of cardstock pasted on the back for the last copy. The card typically has a grommet and can be tied to target area with the help of a string.
Q:
What is a snapset NCR carbonless form?
A:
Snapset carbonless forms have a stub or perforation on one side of the form so that the copies can be easily 'snapped' or torn off along the perforation.
Q:
A:
Receipt forms, also known as sales receipt forms, payment receipt forms, or contract receipts are carbonless forms that usually have an original copy and one or more carbon copies. Text written on the front copy is transferred to all of the carbon copies without any extra effort.
Q:
Is it possible to get multiple receipt forms on the same page?
A:
Yes. Depending on size of the receipt, we can add two, three, or more receipts on a single sheet. These receipts sets are separated by a perforated tear line so that the individual receipts can be torn off easily.
Material
Carbonless Paper
Stock Thickness: 55 gsm, 75 gsm
Style
Individual
Pads
Books
Carbonless Tags
Size
A3
A4


A5


A6
A7
Custom
Binding Types
Wrap Around Cover
Saddle Stitched
Spiral Binding
Snapset
Edge Glued

Features
1st Part: White
2nd Part: Canary
3rd Part: Pink
4th Part: Green
5th Part: Goldenrod
Other Options
Sequential Numbering
Perforation
Portrait or Landscape Orientation
Hole Drilling
Printing on Reverse Side
SKU#
CF-001
Custom Carbonless Forms
Custom carbonless forms can be a tool to make business easier for your employees and customers. Plus, they can save you money. These forms might seem like a small detail in a complex operation, but if you can quickly improve your efficiency, why not take the opportunity?
At Printingblue.co.uk, we can help you design your custom printed carbonless forms to look professional and attractive. Our design team is experienced in using various colours, design templates, number sequences, and dimensions to craft the right type of carbonless form for you, which will complement your corporate identity.
Advantages of Carbonless Forms
Carbon papers are a traditional way of keeping track of contracts, but they're out of place in a modern workplace. No one wants to stain their fingers or countertops with carbon copies today.
Imagine a paper which duplicates your writings in an instant on multiple pages without any printing device. Yes! This is possible through carbonless printing technology. Carbonless pads coated with micro-encapsulated dye or reactive clay duplicates your writings on many sheets at a time. It saves time as you have to write only once plus the duplication accuracy spares less room for mistakes. Above all it can be customised to fit the needs of the business.
Some of the features we put into our custom carbonless forms include:
Customised sequences of numbers on different pages, fitting your unique needs
Different colours for each copy, aiding in faster sorting
High-quality multiple perforations to allow for quick and easy page removal
Originals printed with your full-colour logo and company information (optional)
Get Your Custom Printed Carbonless Forms
A well-designed carbonless form tells your customers you care about every detail of your business, and you take the time to make it more convenient and efficient for them.
At Printingblue.co.uk, we have experience creating service forms, multi-page carbonless forms, and business forms. Order a free sample kit from us today to get started on yours.
All carbonless forms are printed in 2parts, 3parts, 4parts or 5parts according to your business needs. Each of the parts of your order forms is printed in different colour in order to avoid duplication and minimize any kind of inconvenience. You can also get your custom order forms printed with your company's logo and design as per your requirements. We make use of full colour CMYK/PMS (Pantone Matching System) printing process. We specially offer free design support and free unlimited design revisions along with free shipping and handling services for your order forms printing order at your doorstep
Custom Carbonless Form Pads and Books
Get this versatile tool printed from one of the world's top class printing companies, Printingblue. We offer versatility in a way to achieve your business targets with great efficiency. We provide custom carbonless pads in a wide array of alternative designs and dimensions. You may order pads in accordance with your specific business type. You may get the original form printed in multi colours with your corporate logo and slogan. Binding options such as saddle stitch and perfect binding are provided as per your requirements. A special feature of wrap around cover is provided to put it between the sheets so that the impression of writing could be prevented on lower sheets. All these options provide you an ease of work.
Keep your business in a steady flow through carbonless paper notebooks and get them printed from the top ranking company Printingblue. It surely is the right place where you will find our work close to your imagination. Just because we offer what you want and we deliver what you think. We will print the sequence numbers of your choice on carbonless copy notebooks for your ease. Colour options are also provided to let your management work smoothly.
Custom Carbonless Order Forms, Invoices and Business Forms
The order forms are printed by making use of premium quality 75 gsm carbonless paper stock which does not leave any kind of ink stains. They are perforated and printed with sequential numbering with the option for you to choose your starting number.
Our custom invoice forms are adequate and come with eye catching and striking designs. Our graphic designers assist you in producing the most effective and suitable designs for your invoice forms. Placing an order with us wins you several countless benefits which include free graphic design support, proof reading and shipping of your printed order at the address mentioned by you. Along with printing, you also get complimentary sequential numbering and perforation services.
Customised business forms ensure smooth running of professional operations. Printingblue offers up to the standard printing which will give your business a successful edge. Guaranteed satisfaction, caring support team and no compromise on quality differentiate us from others in the market.
Custom Carbonless Service Forms and Service Tickets
Custom carbonless service forms can help keep track of clients, performed services & billing. Contact us to create your own branded service forms. Free Shipping
Increase your brand recognition & keep track of your orders with custom printed multi-part service tickets. Free shipping & design support. Contact us today!
Other Printing Products