Custom Quote Request Form
Certificate Holders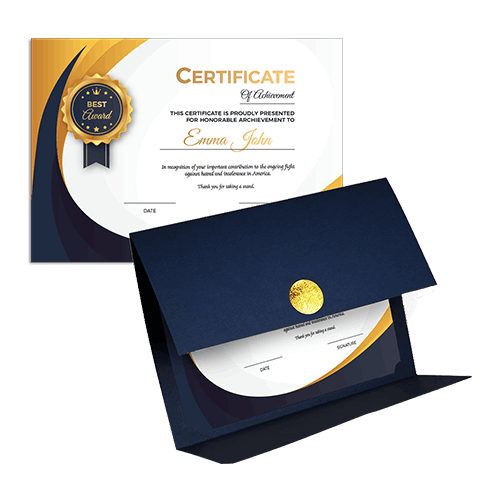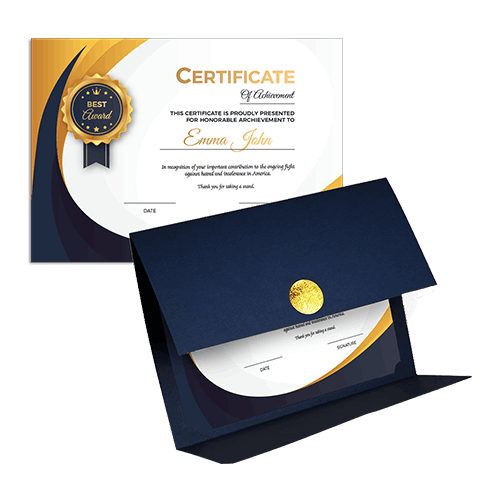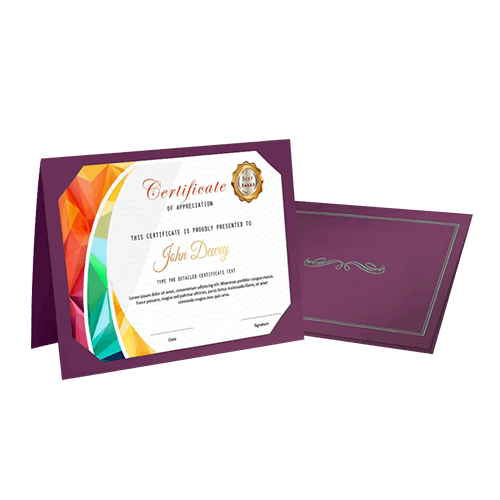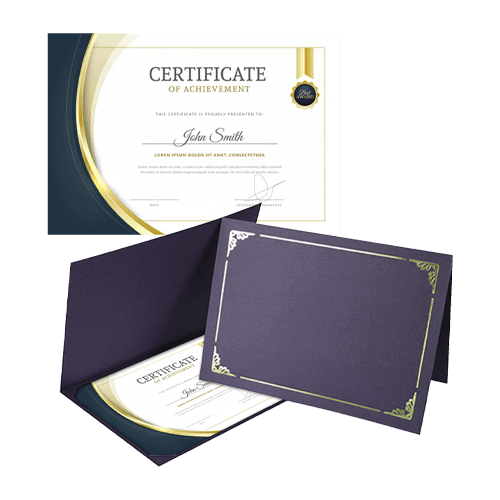 FAQ's
Specification
Learn More
Reviews
Q:
Which parts of the certificate holders can I customize?
A:
All sides of the certificate holders are fully customisable. One side of the printed sheet represents the front cover and the back cover of certificate holders once finished. The other side of the printed sheet will be the inside of the holder.
Q:
Is there a minimum order quantity?
A:
No, there is no minimum order quantity requirements. You can order as few custom certificate holders as you need. Ordering a few holders is perfect if you would like a sample to check out before committing to a larger order. However, due to initial costs involved in setting up a print job, ordering bigger quantities will typically result in a lower per unit cost. Your account representative can help you find the most efficient solution in order to keep your per certificate holders cost low.
Q:
How many panels can my certificate holders have?
A:
Two and three panel holders are the most common. However, depending on the size of each panel, you may be able to have more panels if needed. Please consult with your account representative for the most cost effective solution to fit your budget.
Q:
What if I want to print something which is not a regular certificate size?
A:
We can do non-standard sizes as-well. Please indicate your specific size requirements when communicating with your sales representative.
Q:
Can certificate holders be manufactured using linen or textured stock and what finishing option they can have?
A:
Yes, there is a wide variety of textured card stocks, including linen card stock, that can be used to design and print certificate holders. For finishing, there is a variety of options such as die cutting, foil stamping, embossing, and debossing that you can further enhance the look of your linen and textured custom certificate holders.
Q:
What is blind embossing vs print embossing?
A:
If an area is embossed without any printing, it is referred to as blind embossing or blind stamping. On the other hand, print embossing refers to the process of creating an embossed impression along with single or full colour printing in the same area.
Q:
Can certificate folders have a gate fold?
A:
Yes, certificate folders can be customised to have a gate fold.
Material
White: SBS (C2S), Uncoated
Textured & Linen Stock
Stock Thickness: 300 gsm, 350 gsm, Custom
Style
Horizontal
Vertical
Corner Pockets
Corner Slits
Gate Fold
Size

A4 (229 x 305 mm)


Custom
Finishing Types
Lamination: Gloss, Matte, Sandy Matte, Soft Touch, Pattern
Coating: Gloss AQ, Satin, Varnish, Spot UV, Flood UV
Features
Foil Stamping
Embossing
Debossing
Die-cut
Metallic Inks
Other Options
Spine
Outside Printing Only
Outside & Inside Printing
SKU#
CH-001
Creating a Lasting Impression: Best Practices for Printing High-Quality Custom Certificate Holders
Certificate holders are designed to store, protect, and display certificates, awards, or diplomas. Recognition certificates symbolize hard work and dedication, and it is vital to use high-quality holders to ensure that ceremonial certificates can be displayed most impressively and appealingly. Certificate holders provide an elegant and professional way to showcase certificates, diplomas, and other essential documents. They can also help protect these documents from damage, ensuring they remain spotless for years to come. In addition to their aesthetic appeal, custom-printed certificate holders can also serve as a powerful branding tool on various occasions, from corporate events and conferences to academic and graduation ceremonies. Whether your goal is to impress clients, acknowledge employees, or commemorate academic achievements, investing in custom-printed certificate holders is a prudent choice that will yield benefits for years to come. 
Noteworthy features to consider when ordering custom certificate holders include: 
Material: Certificate holders can be manufactured using various materials depending on the desired level of formality or sophistication.  Material choices include leather, faux leather, plastic, or high-quality paper/card stock. These materials enhance the holder's appearance and offer varying degrees of durability and protection.
Size: Certificate holders can be produced in different sizes to accommodate various certificate dimensions. Standard sizes include 8.5" x 11" (letter size) and 11" x 14" (legal size), but they can also be customised to fit unique document dimensions.
Orientation: Most certificate and diploma holders are designed for either portrait or landscape document orientation. Some holders feature dual-orientation capability, allowing both portrait and landscape modes.
Pockets or Sleeves: These holders often have clear plastic or acetate pockets/sleeves to protect the certificate from dust, dirt, and fingerprints while providing document visibility.
Personalization: Various customization options, such as embossing or engraving are available in order to add logos, names, or other relevant information to the certificate holder.
Display Options: Some holders have built-in stands, easel backs, or hooks, allowing them to be displayed on a desk, shelf, or wall.
Several types of certificate and diploma holders are available to suit different needs and preferences including: 
Padded Certificate Holders: These holders have a padded cover, typically made from leather or faux leather. The padding gives a luxurious and professional appearance, making them suitable for formal occasions and high-profile events.
Paper Certificate Holders: Made from high-quality paper or cardstock, these holders are lightweight and often more affordable than others. They come in various designs, colours, and textures, making them suitable for multiple occasions.
Plastic Certificate Holders: Plastic holders can be made from transparent or coloured plastic, providing a sturdy and durable option for protecting certificates. They often feature a clear front sleeve, allowing for easy document viewing.
Other Printing Products